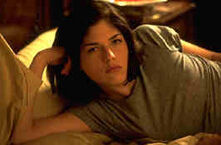 Cecile Caldwell
is a fictional character appearing in the 1999 hit teen drama Cruel Intentions, she is portrayed by actress Selma Blair.
Biography and Family Life
Edit
Cecile is the daughter of Bunny and Beau Caldwell, a new rich couple who just recently moved to New York City and is climbing the social ladder. They are very wealthy but are shunned by most of the Upper East Side because they are "new money". The Caldwells reside at 952 Fifth Avenue in the penthouse.
Personality
Edit
Cecile is childish, naive, gawky and also sexually inexperienced. This makes her an easy target for Kathryn. Kathryn befriends her at first, but then later uses her in order to get revenge on Court. Court left Kathryn for Cecile, who he fell in love with.